Protected Areas
Protected Wetlands
Overview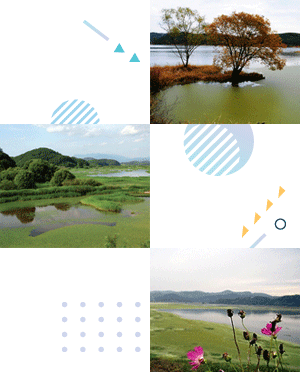 Protected wetlands - Upo Swamp Dictionary meaning of wetlands refers to the "damp wet lands". Briefly speaking, it will be the land that holds water. The Wetland Preservation Law of Korea defines it as follows:"Wetlands refers to the inland wetlands and coastal wetlands, which are the areas whose surfaces are permanently or temporarily covered by fresh water, gas water or saltwater. Inland wetlands refer to the lakes or lakes & estuary, or other areas present in lands or islands. Coastal wetlands refer to the areas from the border where the water line is tangent to the ground at high tide to the border where the water line is tangent to the ground at low tide."
The globally popular Ramsar Convention defines it as follows in terms of water gate rather than in terms of vegetation and soils. The definition extended the scope of wetlands to the depth of 6m exceeding the depth of 2m which is generally accepted.
"Wetlands refer to the marshes, wetlands, peat lands, areas with water which contain the places with less than 6m depth at low tide whether natural or artificial, whether permanent or temporary, whether static water or flowing water, whether fresh water or gas water or saltwater"
In addition, paragraph 1 of the Article 2 take into account the riversides and islands adjacent to the wetlands, and the seas exceeding 6m at low depth within the wetlands as well. The places such as fish farms, agricultural ponds, irrigated farms, reservoirs, and canals are classified as the wetlands.
Wetland is an ecosystem with the perfect balance between production and consumption by cultivating a variety of organisms through a long process of water stagnation and flow. Wetlands provide habitats for many organisms and the living organisms in the wetlands serve to maintaining the ecosystems at a stable level. Since mankind has been living in the area adjacent to water, the wetlands called the heart of nature have been the subject of use rather than the subject of protection to date. Especially, for the areas of wetlands posterior to the industrialization, 50% of wetlands have disappeared due to developments since 1900 and the speed of wetland loss has been accelerating since 1950. To protect the wetlands as the spaces where a variety of living organisms are living is just to protect the ecosystem.
What are Protected Wetlands?
The areas maintaining the primitiveness of the nature state or abundant biodiversity
The areas where rare or endangered wild animals and plants live or arrive
The areas having values in terms of the unusual landscapes, terrains, and geology
Designation status
Designation basis: Article 8 of the Wetland Preservation Law
Designation procedures: Investigating wetlands -> Preparing the designation proposal -> Collecting opinions of mayors/governor and local residents -> Consult the related government agencies -> Designation/Notice
Designation status: 41 areas, 359.702㎢

Designated by the Ministry of Environment 22 places, 126.278㎢
The Ministry of Maritime Affairs and Fisheries: 12 places, 225.170㎢
Designated by mayors or governors 7 places, 8.254㎢
Registration status of the Ramsar Wetlands 22 places, 191.627㎢